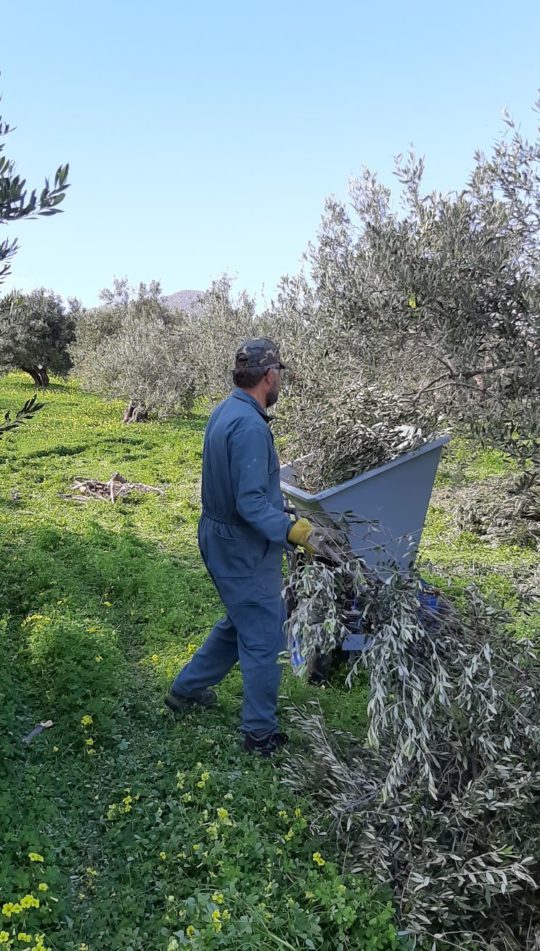 The Agricultural Cooperative of Zakros constantly invests in a healthy harvest. The inputs for the nutrition of the olive trees are complementary, rational and targeted, upon analysis of the specific needs of the olive grove (analysis of soil, water, fruits). The soil is naturally aired and cleared of weeds, using mechanical means.
Image: Crushing of branches with special machines, in order for the residues of the pruning to be used in cultivation. Nothing goes to waste, when it comes to the olive tree.
To protect the olive tree from its natural enemies, many ecological practices are already being applied in a coordinated manner. An example of this is setting traps to attract them. Ground bait sprays are used against fruit flies, with preparations approved for our region by the Ministry of Agriculture. The olive groves are continuously monitored by agronomists, so that there is convergence with the EU specifications and all the applicable standards.
All quality control and certification procedures are followed at every stage of the production process. From the training and implementation of good cultivation practices by the producers, to the orderly operation of the Cooperative facilities compliant with the safety and quality standards. The result is the production of a quality final product, completely safe for the consumer, without pesticide residues, in collaboration with nature.